ATLANTIC F125-D
The basic line of direct-heating convection heaters has a control unit with three pre-set modes (Comfort, Eco, Timer) and one program mode to create individual weekly program. The convection heater has the function of "Open Window Detection", control lock or temperature sensor calibration.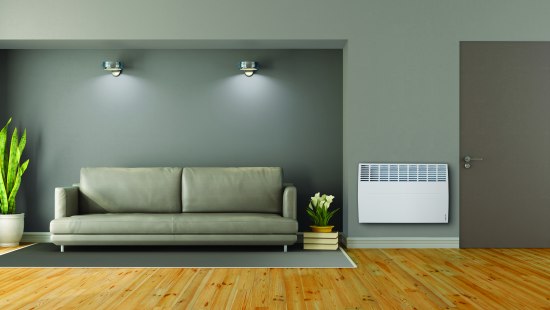 ATLANTIC F125-D
ATLANTIC F125-D
Convector with programmable thermostat (accuracy 0.1°C) with four operating modes:
COMFORT - convector maintains permanent temperature that is set on thermostat; to change the temperature user's action is required. COMFORT mode is intended particularly for applications, in which a higher level regulation is installed (room thermostats, central regulation).
ECO - convector maintains permanent downturn temperature – value ranging from 6°C to temperature 1°C lower than the temperature set in COMFORT mode can be set.
PROG - for automatic switching between COMFORT and ECO modes. One of six pre-set programs can be selected for each day of the week. One of these programs can be adjusted as required, each hour during the day can be assigned a COMFORT or ECO temperature.
TIMER – for setting convector's automatic turn-off. Turn-off time can be set from 1 to 8 hours.
Other functions: temperature calibration ±3 °C / control lock / open window detection /. This type of heaters is preferably intended for fixed connection to the installation box. Connection cord has a plug end (intended for export markets), when installing the plug is removed (no reason to lose the warranty).
ATLANTIC F125-D
Type
Output
Dimensions
Weight
Qty on pallet
Cat. No.
[W]
[mm]
[kg]
[pcs]
ATLANTIC F125-D 05
500
391 x 461 x 114
3.6
26
5412174
ATLANTIC F125-D 10
1000

465 x 461 x 114

4.2
24
5412176
ATLANTIC F125-D 15
1500

613 x 461 x 114

5.2
18
5412178
ATLANTIC F125-D 20
2000

761 x 461 x 114

6.2
13
5412180
ATLANTIC F125-D 25
2500

910 x 461 x 114

7.2
12
5412182
Similar products

ECOFLEX TAC

SOLIUS Digital
Ivigo Professional
Examples of operating costs