Thermostats and controls
This includes regulators for common environments – i.e. for family houses, flats, offices, shops, schools etc. The regulator (thermostat) is usually located directly in the interior of the heated room, and it controls connected heating on the basis of monitored parameters (air temperature in the room, floor temperature). Regulators can be analogue or digital (programmable), they can read room temperature and/or floor temperature (floor heating), and feature various setting and programming options.
Buildings as active elements of the energy system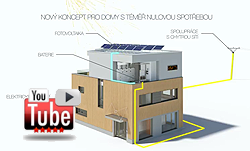 Houses with nearly zero energy consumption in the 2020 standard. Read here...