Electric convectors ECOFLEX
ECOFLEX direct-heating convection heaters are one of the first products used on a large scale for electric heating. Today, electric heating is mainly employed in the form of large-surface floor or ceiling heating (particularly in the case of low-energy houses), though electric convection heaters are still used. Quality, tradition, precise regulation and very attractive prices – FENIX convection heaters offer all of these.
Buildings as active elements of the energy system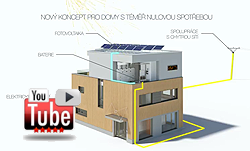 Houses with nearly zero energy consumption in the 2020 standard. Read here...