Radiant heating panels ECOSUN
ECOSUN ceiling panels utilise the principle of radiant heating (so-called infrared heating). The unique surface finish and uniform distribution of temperatures across the surface of the panel ensure the output of a maximum share of heat energy in the form of radiation, while reducing the convection element to a minimum.
Buildings as active elements of the energy system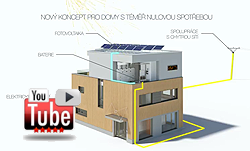 Houses with nearly zero energy consumption in the 2020 standard. Read here...