Thermostat T-sense OLED (Bluetooth)
The T-Sense OLED thermostat combines the characteristics of simple thermostats "with a knob" and digital thermostats with weekly program.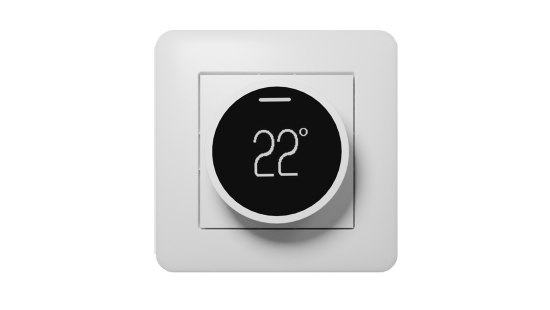 Thermostat T-sense OLED
Thermostat T-sense OLED
Rotary knob and touch sensor (button) integrated in the OLED display are used for control. After the first start, thermostat checks whether the floor probe is connected and "AIR" mode or "FLOOR" mode are selected automatically. "AIR+FLOOR (=Dual)" mode can be activated only through the ecoControl mobile application.
Thermostat can be permanently set to "COM" or "ECO" temperature and the values can be regulated manually using the rotary control. Another option is to switch between the "COM" and "ECO" temperatures through signal by the pilot conductor using external timer.
Basic setting of the thermostat, including "COM" and "ECO" temperatures, can be made using the rotary controller and sensor button. The rotary control can be used to turn off the thermostat or to start the mode of "BOOST 1 hour" – thermostat maintains set temperature for one hour, afterwards it returns to the mode that was active before the "BOOST" mode activation.
The ecoControl (Android, iOs) mobile application
Besides activation of "AIR+FLOOR" mode, we can create and save weekly program in the thermostat and switch it to "AUTO" mode through the ecoControl application. Thermostat then automatically switches, as programmed, between the COM and ECO temperatures. The change of temperatures can be programmed every hour on the hour, a different time program can be set for each day of the week. The mobile application also allows detailed thermostat setting: values of COM and ECO temperatures, limit floor temperatures, limitation of the scope of temperatures configurable by the rotary controller, full locking of thermostat control, etc.
The ecoControl application does not require a user account, Bluetooth technology enables connection only with devices in immediate vicinity (range of c. 3 m). After start, the application displays all T-Sense thermostats within the range, for easier orientation thermostats can be named. Floor probe is included in the package.
Similar products

FENIX TFT

Thermostat T-Sense (Bluetooth)

Watts V24 central unit
Examples of operating costs