Our most popular thermostat, the TFT, is now available in a range of colours
In 2012 our company began selling the TFT touchscreen thermostat (Touch Fenix Thermostat). This thermostat, specially developed to control electric heating systems, has gradually become the best-selling thermostat produced by the whole FENIX GROUP.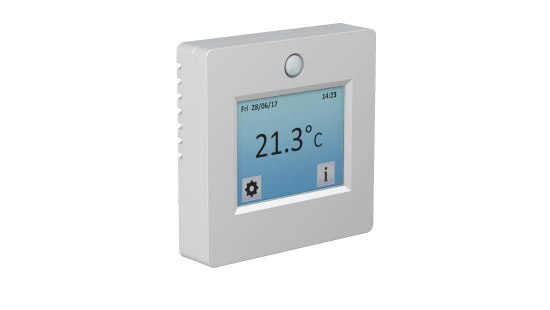 Because the continuously increasing demand means that the number of people interested in alternative colour schemes is also increasing, a new version of the thermostat has been prepared which we are now adding to our range under the designation  Thermostat TFT 2.
This second version retains all of the strong points of the first, i.e. its large and clear touch screen, its intuitive controls, and its suitability for use with all types of electric heating. However, its body has been given a complete overhaul. The visible outer part is now composed of two sections – a body frame and a front cover. Both of these components can be detached and exchanged for one in a different colour. It is a very easy procedure and the user can do it alone - no assistance from a specialised company is necessary. At the beginning, each part will be offered in three new colours – black, red and silver – and you can mix and match them any way you choose. Along with white, the standard colour in which the thermostat is sold, it is possible to create a total of 16 colour variants. The standard version of the thermostat that is sold is all white, and users can order the components they wish to change separately in the colour of their choice. 
You can see how easy it is to exchange both parts in a short 3D animation here…
We have also prepared a simple application for you where you can try out which TFT Thermostat colour scheme would suit you best. To start the application, click here…
One small point of interest to finish off – the TFT Thermostat is now equipped with a passive infrared occupancy sensor. This function is primarily intended for applications involving direct heating or radiant convectors, i.e. systems capable of heating up rapidly. If the user is not present, the thermostat automatically lowers the temperature in the room, which leads to significant energy savings. When the user returns, the thermostat automatically returns to the set comfort temperature. Because this function isn't suitable for large-area systems (floor or ceiling heating), the user can of course turn it off completely.