ČEEP 2017: Announcement of Awards
This year at the Bethlehem Chapel in Prague, prizes were once again traditionally awarded for the Building of the Year and Innovation of the Year. The ceremony was conducted in the presence of the rectors and deans of Czech technical universities, and included the giving of prizes for the best work by students.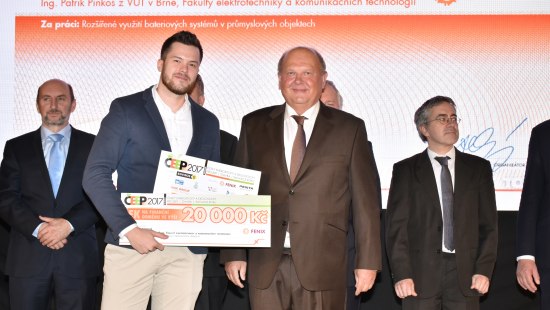 Fenix, which in 2016 was presented with the prestigious award Innovation of the Year for its conception and realization of an nZEB as an active element of the energy grid, was there this time as one of the main partners for the student part of the competition.
CEO and company owner Ing. Cyril Svozil presented student Patrik Pinkoš with an award for his Master's thesis on the advanced use of battery storage systems in industrial buildings.
This year, Fenix s.r.o., together with another member of Fenix Holding, the company AERS s.r.o., brought on line a battery storage system with a capacity of 640 kWh. It is used to save energy, and particularly to achieve savings in operational costs.
As a purely Czech family firm it is an honour for us to support the development of technical university education!
Cyril Svozil
21.11.2018