Structurally, IRC panels are derived from our time-tested ECOSUN radiant panels, and they have been supplied to foreign companies which produce infrared cabins (Austria, Germany) since 2004. They are also available as part of a set together with temperature regulation equipment for do-it-yourself installation.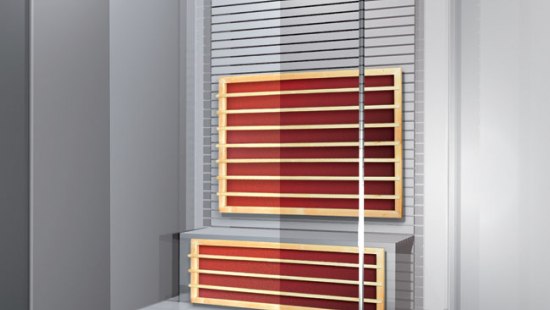 IRC PANELS
IRC PANELS
The principle behind infrared cabins (infrared saunas)
In infrared cabins (also called infrared saunas), so-called radiant heat is used – it works on a similar principle to ECOSUN heating panels. In this case, however, it is aimed at warming the muscle tissue of the user up to a depth of approximately 4 cm with the help of infrared radiation. Thanks to this deep warming of the rganism, intensive sweating takes places at a lower air temperature than in the case of classic steam saunas – during the whole of the user's stay in the cabin, the air temperature ranges between 30 and approx. 55 °C. Infrared cabins can be used over longer intervals, with the aim of freeing one's body from harmful substances which are released when sweating, or in shorter intervals in which the aim is to warm up the muscle tissue before expected physical exercise – muscle stretching, body-building, running, etc.
Advantages of infrared cabins with IRC panels
Infrared heating warms up the skin faster and the heat also penetrates deeper into the tissues than heat from hot steam
Thanks to the lower air temperatures involved, they are also suitable for patients with cardiovascular diseases or respiratory diseases
In contrast with other types, they have considerably lower acquisition costs and minimum negative infl uences on the surrounding environment – humidity
The operating costs are lower by 1/3 to 1/2 in comparison with steam saunas (lower air temperature in the cabin; up to 80 % of the energy is used for direct heating of the body)
Large-surface IRC radiant panels heat evenly across their whole surface and for example in contrast with ceramic radiators, the output of which is concentrated into a small surface with a high temperature, they heat the whole body signifi cantly better and more evenly 
The possibility of minimizing spatial requirements – a cabin can be installed in an area as small as 1 m² – suitable also for smaller flats
IRC panels
Type
Output
Voltage
Dimensions
Weight
Cat. No.
[W]
[V]
[mm]
[kg]
IRC Panel 875x360/200
200
230
875 x 360
2.8
5401805
IRC Panel 1130x360/260
260
1130 x 360
4.9
5401810
IRC Panel 1330x360/310
310
1330 x 360
5.1
5401811
IRC Panel 650x780/330
330
650 x 780
9.2
5401813
IRC Panel 1130x780/575
575
1130 x 780
4.8
5401812
IRC Panel 1130x780/575 S (with a probe)
575
1130 x 780
9.3
5401814
IRC Panel 1330x780/680 S (with a probe)
680
1330 x 780
11.7
5401815
Similar products

ECOSUN K+
ECOSUN G, G with print

ECOSUN U/U+, VT, Basic
Examples of operating costs